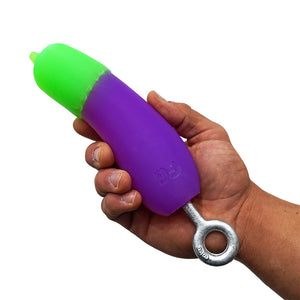 Grip Genie
The Big PP 2.0
Regular price
$ 55.00 USD
$ 0.00 USD
Unit price
per
 Telling you all to Grip-N-Rip this one feels wrong somehow. 
Welcome to our fully redesigned totally above average Big PP! After reading all your feedback on the first version we've got this sexy vegetable dialed in. It's just a hair smaller than the original and now features an oh so pleasant ribbed for your gripping pleasure texture.
Approximately 1 pound (0.45 kg)
This is a made to order item, it will ship within one week of purchase
Matte finish resin with a textured finish for your gripping pleasure 
Super secure eye bolt
Load tested to 400lb of static weight
Each eggplant is handcrafted one at a time, there will be minor variation between each
Need a carabiner for your Big PP? CLICK HERE to snag one!
*I really loath the fact that I need to put this disclaimer on but; ffs YA BIG FREAKS, this is a grip tool-FOR YOUR HANDS, meant only for that purpose DO NOT insert it into an orifice of any kind.* 
---